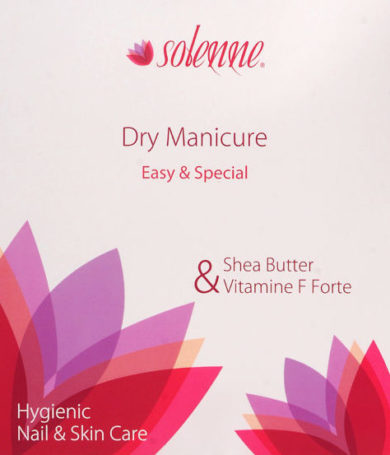 Dry  Manicure/Pedicure
 "Yours Salons Perfect Solution"
 – Sterilized
– Hygienic
– Waterless
  – Disposable
What Makes Dry manicure/pedicure Sets the Smartest,
Eco-Friendly Solution?
Solenne/Juvenis  Manicure and Pedicure  Set are the best solution for consumers and Salons. With the risk of infection and incidents on the rise, even the best salons face the fact that, despite safety procedures, quality and care of traditional nail stations; you are still at risk of infecting a customer with a variety of bacteria and fungi that, at their worst, can forever damage the hands and fingers or make your customers sick.
Sets can help you significantly reduce the risk of infection, save water, promote an eco-friendly salon AND give your customers an incredible, quality manicure or pedicure.
The Top Reasons to Use
Dry Manicure/Pedicure Komplets
Waterless, Disposable Manicure and Pedicure Sets that will save water and protect your customers.
Since there is no need to soak, Nail Salons save time on every manicure/pedicure and increase client turnover, increasing overall profits.
Hair Salons can create an "Express Nail Service" using these Sets  for clients while hair is being dressed.
Reduce costs and never have to buy, care for or replace tools again – everything you need is included in every kit.
No More Wasting Water
Salons can use up to 25 litters of water when doing a manicure and pedicure. This water waste is bad for the environment and taxes our precious resources. Sets eliminate the use of water during manicures and pedicures, making the whole nail treatment 100% waterless.
Saving water is good for your community, for your customers and for your business.
Remove Water. Reduce the Risk of Infection.
Water usage can increase the risk of infection, especially when those salons are not regularly replacing the water used between appointments. Many salons have faced horror stories of having to be shut down or face the wrath of customers who have endured fungal and bacterial nail infections. Bacterial severity can range from causing rashes to much more harmful effects. Types of bacteria found in water can include Legionella, E. coli, Cryptosporidium, Giardia, Cholera, and even Hepatitis.
Solenne/Juvenis Sets reduces the risk of infection from water or repeated use of tools, with their effective Sets waterless, disposable, one-time-use manicure and pedicure Sets.